The housing market has house prices through the roof! And speaking of roofs, the cost to replace an aging or damaged one isn't getting any cheaper. So, what can you do if you are getting tired of your current digs, but don't have the ability to move?
Instead of living with a house you hate, you can turn it into the palace of your dreams. If you've ever watched HGTV, you can see what people can do to even the most run down hovels. Unfortunately, home renovations, even if you are doing them yourself, don't run cheap. Many of us don't have the cash on hand for such a large expense However, by getting a Lending Tree Loan, personal or home equity, you can get the money you need to bring your home into the 21st Century.
How To Go About Renovating Your Home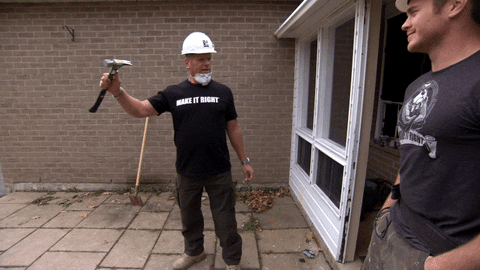 1. Make Your Wish List And Prioritize
Your hideous 80's pink toilet may be screaming "replace me", but if your roof is leaking that should take priority. Make a list of everything that needs to be done from the major to the minor. Next, prioritize your list. Keep in mind safety, structural, and internal functioning parts of the house like HVAC, plumbing, or electrical always take priority over aesthetic choices. The prettiest kitchen in the world won't matter if your house burns down because of bad wiring.
2. Decide If You're Going To Get A Contractor Or Go It Alone
While it may seem cheaper to do a renovation yourself, some jobs are best left to a professional. Always get a professional if it involved plumbing, electrical or anything structural. If you are just painting some cabinets or adding some crown molding, you can probably do that yourself. Even for a beginner, there are a ton of videos on YouTube that can teach you everything from changing out a light fixture to retiling a bathroom.
Take in mind that most people only have the weekends to get a job done. So, think realistically about how much time it will take to get the job done yourself versus hiring a professional.
3. Set A Budget
Home renovations are supposed to increase your investment. If you spent $300,000 on your house and want to put $100,000 of work into your house, check to see what the houses in your area are selling for. If the best house on the block is only selling for $350,000 you are probably going to end up losing money.
Also, remember once you start taking down walls and getting major work done, hidden problems are often uncovered. Always set aside about 15% of your budget to cover unexpected expenses.
4. Shop Around For A Contractor And Get A Quote
Finding a good contractor can be difficult. Ask friends and neighbors for recommendations. Like how a particular house in your neighborhood came out, ask who they used. Always make sure the contractor has an up-to-date license and insurance. Otherwise, you may be liable for any damage done during construction.
Ask who they use for subcontractors and vette them as well. These people will be in your home everyday, often when you are not home. You might want to do a background check to be doubly sure who you are letting in your home and around your family.
The cheapest or fastest guy isn't always the best guy. Insist you see pictures of past work and ask questions about how they deal with unexpected expenses and hold ups. Figure out who is responsible for what as far as permits go and settle on a timeline for the project. Allow for additional time because when it comes to construction, things always come up.
5. Get Plans Made And Get Your Permits In Order
Additions, decks, pools, and other major construction usually require permits and plans drawn up by a licensed architect. You should account for permit and plan costs into your budget as well.
6. Get a Loan
There are two major types of loans you can get during a renovation, a personal loan and a home equity loan. While both can get you the money you need, there are pro's and con's to both that  should be carefully considered.
A personal loan is an unsecured loan you get from a lender that can be used for any reason. Interest rates and terms for personal loans can vary greatly. To save time, you may want to try a service like Lending Tree that compares rates and terms to bring you the best options based on your individual situation. Personal loan interest rates are higher than a home equity loan because it is considered an unsecured loan. But, you won't be eating into your home's equity should you decide to sell.
Personal loans are better for smaller renovation budgets and if your home isn't worth more than what you owe on your mortgage.
If you have enough equity in your home, a home equity line of credit might be the best way to fund your home renovation. This is considered a secured loan because you have your home to back it up and your interest rates will be lower than a personal loan. If you are renovating to sell your home, make sure the value you are adding is more than you are borrowing. To learn more about home equity, click here. 
7. Prepare For The Renovation
Pack up the areas you are renovating and decide where you are going to stay while the work is being done. Can you live without a working bathroom or kitchen for several weeks? Factor in storage and living costs during this time too. If you are lucky enough to have a friend or relative's place to crash at, mentally prepare for living under someone else's roof. Renovations are stressful for everyone, take time to take care of yourself.
8. Bask In The Glow Of Your "New" Home
Once all the work is completed, take the time to enjoy your renovated home. Even if your renovation was something less than exciting, like a new roof. Think of the money you are saving on heat and air costs with better insulation, not to mention the value it adds to your home.
Renovating your home can be a stressful and exciting time, but costs can get out of hand quickly. Set your budget and priorities, and stick to them. If you are taking out a Lending Tree Loan, make sure you choose a rate that you can afford. You don't have to look far for the house of your dreams, it could be the one you've been living in all along.
Make sure to check out our other blogs on SproutCents!